WETNESS INDICATOR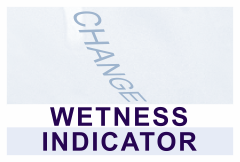 Wetness indicator is a simple yet very effective solution applied to products for moderate and heavy incontinence, thanks to which you can control if the product is already used or not. It is especially important for caregivers of incontinent people – they can check if they need to change their charge's diaper without even opening it.
How the indicator looks like
The wetness indicator in Seni products is visible on the outer layer of the product along the absorbent core. In different types of Seni products it can be in two forms:
Some products have both forms applied.
How the indicator works
The indicator changes in contact with wetness from inside of the product – the imprint blurs and yellow stripes change their colour into greenish-blue. The blur / change of colour on 50-80% of the indicator's length informs that the product needs to be changed for a fresh one. Both forms of the indicator are applied from the inside of the product, so there's no risk of making clothes or bed linen dirty.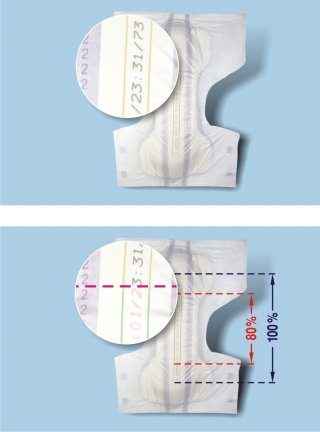 Additional function of the letter/digit indicator
The indicator in the form of combination of letters an digits has a second job. Not only does it show when to change the product, but also carries information about the product. You can find a full name and size of the product as well as the production date and hour. This data is important when you want to contact the manufacturer regarding the product.